What is emotional design?
By concept, it means anticipating your audience's needs and wants, and using design to bring in a positive experience and basis towards your product. It has been evident from research, that the choices of the consumer are more often than not, are irrationally bent towards their emotional responses to the product or service. Understanding, anticipating and preparing your marketing and designing your product for the audience helps in creating better success rates.
It is methodically confirmed that in any presentation the more you use emotional design the chances of attracting your client are far better. A majority of people will say that it is up to a presenter to make his design successful; however emotional designs also play a pivotal role in making his design a success. Emotional design can converse on an intuitive level, it makes your audience feel something special about your presentation design.
One of the fallacies of any presenting is that you are not really selling to an audience, you are connecting with someone. Emotional design gives you that space to make that impact and bond with your customer and create trust. Thereby the scope of creating a relationship that can be mutually beneficial for long.
To answer that we have highlighted 7 Powerful Ways to Master for Success in Emotional Design to Connect with Your Audience
1. How Emotional Design Defines the Requirements and Responses of the Audience
Your primary focus as a designer should be on what your audience expects from your designs. It should be evident from your presentation design that the audience can achieve their goals competently and successfully. Creating a listening for your audience reactions is important here.
Creating listening is an iterative process that slowly builds over time but it creates an effective translation of both your goals and your audience's goals.
2. Understanding 3 Key Levels of Emotional Design
Visceral / Intuitive: The first interaction is with the visual and placements that may help the user to be more at ease or be more excited. This creates the first layer of communication.
Communicative / Behavioral: This is also a reactive part of the subconscious mind where while the presentation is happening, the user is constantly evaluation if this is helping them achieve their goals. At a bare minimum, are they learning something new with the presentation could be a goal.
Introspective / Reflective: This is a passive activity that happens with the users, post the experience (sometimes at leisure) where they evaluate their overall experience and weigh it with the value they have received.
While this is a model that is used in deep design, it is also applicable in creating a stronger emotional bond with the user and helps in understanding that emotional design is a journey with the user, instead of delivery to a product to the audience.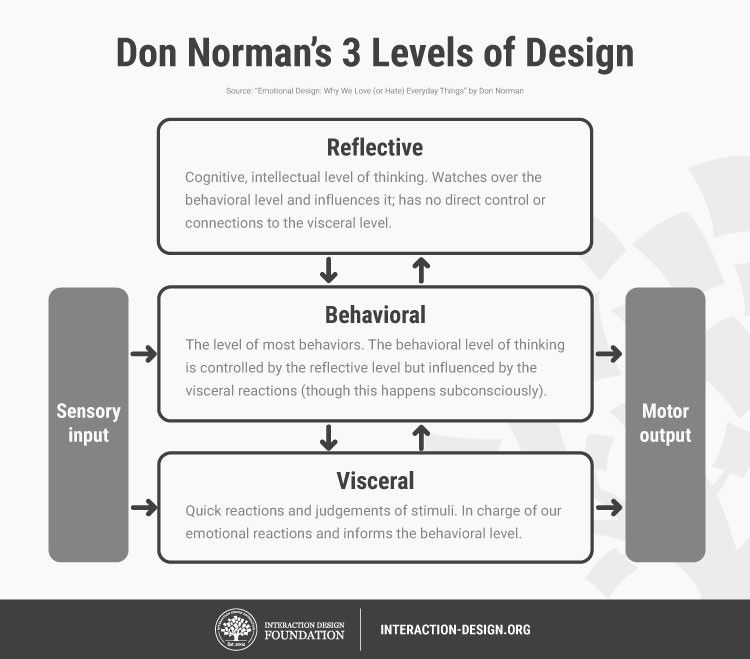 3. How to Implement an Emotional Design:7 Ways
At the core of the implementation of emotional design lies the personalization of your style of presentation while having a highly functional design. All these are best achieved, by having a deep knowledge of your potential audience.
First and foremost, emotional design begins with the idea of creating attachment with your users. The obvious way is repeatition of how you represent yourself, your style of presenting and your presentation techniques becomes a way of life that the audience becomes very accustomed to and begins to bond with that idea. You are in essence creating a brand for yourself.
Focusing on the user. Understanding your user, molding your presentation for your audience even if the presentation is the same helps create variations that is audience specific.
Ceating excitement & drama. Your audience obviously wants to listen to what you want to say, but how you put it across if what matters. We would recommend that create ways to emotional quote high and low. Starting with an interesting story or joke helps reset your audience mood, and gets them engaged. While having a bit of q&a in the middle or a random question or evaluation of an idea helps keep the monotomy off.
Creating a media rich presentation with audio, video and graphics that is relatable. Not all the presentations can be aligned to media, the point is to have something that gives a breather, changes the mood and gives an alternative setting within your presentation
Don't fill up your presentaion, use story telling. Sometimes in the ernest effort to make a point, the presentator takes slides and fills it up with a lot of information. A audience can only digest so much. Making one or two main points in a slide and having a story format for your presentation helps retain what you presented for a longer period.
Give offers, freebies or gifts. The audience is not expecting these, maybe not expecting anything in return for giving you a chance to showcase your presentation. Make it interesting, have a give back at the end of your presenation and make them feel special.
Last and not the least, design your presentation. There is a lot that goes into your presenation. Your style, your presense, being on time and your content. Why would you let design be something on the back burner no matter how good an orator you are? Get a designer, buy a template or learn how to do good / decent design.
4. Extra Reads on Emotional Design
Here is a list of some books that might help you build your strength in emotional design.
Emotional Design: Why We Love (or Hate) Everyday Things
Emotionally Intelligent Design: Rethinking How We Create Products
Design for Emotion By Trevor van Gorp & Edie Adams
Still not sure where to begin? Check out our presentation template that might just suit your needs
---
More Online Reads consider reading Smashing magazines "the personality layer" and interaction design foundations "emotional design" to learn more about emotional design.